How orthodontic treatment works
Orthodontic appliances can be made of metal, ceramic, or plastic. They may be removable or they may be brackets bonded to the teeth. By placing a constant, gentle force in a carefully controlled direction, braces slowly move teeth to a corrected position. This is a great time to wear braces! Gone are the days when a metal band with a bracket was placed around each tooth. You can often choose brackets that are clear or metallic, and sometimes you can choose the color of the ties that hold the wire in brackets. Wires are also less noticeable than they used to be, and the latest materials move teeth faster with less discomfort to patients.
Treatment time typically ranges from one to three years, depending on the growth of the patient's mouth and face, and the severity of the problem. Patients grow at different rates and will respond variously to orthodontic treatment, so the time until case completion may differ from the original estimate. The patient's diligent use of any prescribed rubber bands or headgear is an important factor in achieving the most efficient treatment. Interceptive, or early treatment procedures, may take as few as six months.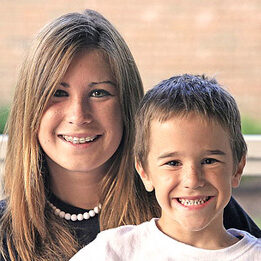 Don't worry, you'll be eating popcorn and snacking on potato chips again in no time! However, before you can start enjoying some of the treats you love, you will need to take special care to avoid any foods that could damage your new appliances.
The Orthodontist isn't just for Adults
What is the advantage of two-phase orthodontic treatment?
Two-phase orthodontic treatment is a specialized process that combines tooth straightening and physical, facial changes. The purpose of two-phase treatment is to maximize the opportunity to accomplish the ideal healthy, functional, and aesthetic result that will remain stable throughout your child's life.
What if treatment is put off?
Putting off treatment can result in a need for more invasive treatment later in life that may not completely fix your child's smile. Early treatment is most effective for achieving lasting results.
Orthodontics For Children
What are some common issues?
You might be surprised to learn that you may be able to solve many problems yourself temporarily until you can get to our office. If there is a loose piece that you can remove, put it in a plastic bag or envelope and bring it with you to your next appointment. If your braces are poking you, put soft wax on the piece that's sticking out. If the wire has slid to one side, you can pull it back to the other side with needle-nosed pliers, replacing it in the tube on the back tooth.
After alleviating your discomfort, it is very important that you still call our office as soon as possible to schedule a time to repair the problem. Allowing your appliance to remain damaged for an extended period of time may result in disruptions to your treatment plan.
When you get your braces on, you may feel general soreness in your mouth, and teeth may be tender to biting pressures for three to five days. Stick to a soft diet until your teeth do not hurt to chew. Irritated gums and other sore spots can be relieved by rinsing your mouth with a warm salt-water mouthwash. Dissolve one teaspoonful of salt in eight ounces of warm water, and rinse your mouth vigorously. If the tenderness is severe, take Acetaminophen (Tylenol) or whatever you normally take for headache or similar pain. Aspirin, Ibuprofen (Motrin, Advil) and Naproxen Sodium (Naprosyn, Anaprox) actually slow the tooth movement, so it is not advisable to use them frequently while wearing braces.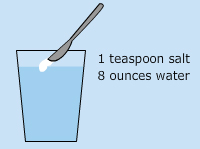 The lips, cheeks, and tongue may become irritated for one to two weeks as they learn a new posture and become accustomed to the surface of the braces. You can put wax on the braces to lessen this. We'll show you how!
The first step toward achieving a beautiful, healthy smile is to schedule an appointment. To schedule an appointment, please complete and submit the request form below. Our scheduling coordinator will contact you soon to confirm your appointment.
Please note this form is for requesting an appointment. If you need to cancel or reschedule an existing appointment, or if you require immediate attention, please contact our practice directly.
On time and staff were great with my 18 month old.
The staff is so friendly and help with any question and concerns.
heather collins
2023-04-12
Every one was awesome!
Excellent experience- even my 8 and 10yi loved it! Dr. Arcuri and his entire staff were absolutely fantastic, professional, amazing with the kiddos.
Shannon Preston
2023-04-11
Everybody is very nice and great with Ryan!
Amazing atmosphere
Amanda Crisalli
2023-03-29
They are great people. They make the kids feel comfortable. Very nice!