As a pediatric dentist Dr. Michael Quigley has a unique opportunity to impact the lives of children. Dental phobias typically manifest early in life and are usually the result of a difficult/traumatic experience in the dental chair. The work done by Dr. Quigley influences the child's perception of the dentist for years to come and can be a huge determining factor in whether that person will seek dental care as an adult.
A unique challenge that Dr. Quigley often faces is the apprehensive patient, but it is a challenge that he finds to be exceptionally rewarding. He takes pride in the fact that the majority of his patients genuinely enjoy coming to the dentist due to the positive experiences he's created for them.
Dr. Quigley has a strong desire to build strong, trusting relationships with the families in our community, and he hopes to create that level of relationship with you and your child.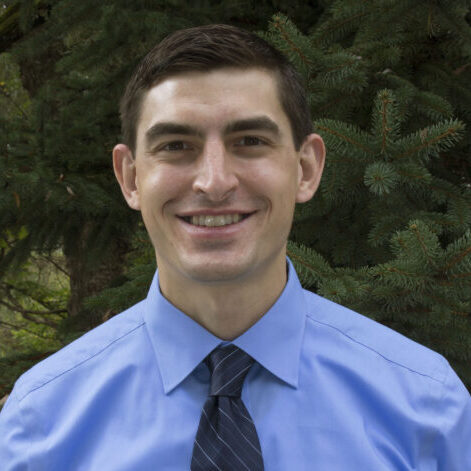 Education & Continuing Education
A native of Hamburg, NY, Dr. Quigley attended SUNY-Buffalo for his Bachelor of Science in Exercise Science. He continued on at SUNY-Buffalo School of Dental Medicine for his Doctorate of Dental Surgery and completed his General Practice Residency at SUNY Upstate. To specialize in the field of pediatric dentistry, Dr. Quigley continued his study at the Women and Children's Hospital of Buffalo for a Pediatric Dental Residency.
An active member of the American Dental Association, the American Academy of Pediatric Dentistry, and the Onondaga County Dental Society, Dr. Quigley attends numerous courses to provide the most current, state-of-the-art dental treatment. A past instructor at SUNY Buffalo School of Dental Medicine, he is currently a Clinical Instructor for the SUNY Upstate General Practice Residency program.
---
Outside the Office
Dr. Quigley now lives in Manlius, NY with his wife, Lindsey, and a Pembroke Welsh corgi named Maggie. He enjoys being active and spending time outdoors with his wife and dog, especially camping, hiking, and fishing. A sports enthusiast, Dr. Quigley proudly cheers-on the Buffalo Bills and Sabres.
Dr. Quigley also volunteers his time to improve the lives of those around him, both on a local and international level. He has taken mission trips to underserved areas, including a trip to Tampico, Mexico where he provided needed dental care to children and adults. On a local level, Dr. Quigley has volunteered with the Special Olympics, Give Kids a Smile Day, and various other local community events.